Before making a booking or arriving at the property, please read our Covid 19 Protocol.
Your dog deserves the best grooming treatment and I believe Madison's offers just that. My mission is to make your dog's grooming experience as positive as possible. I do this through selecting the right grooming procedure, keeping your dog's stress levels low and putting his/her welfare first.
The right grooming for your dog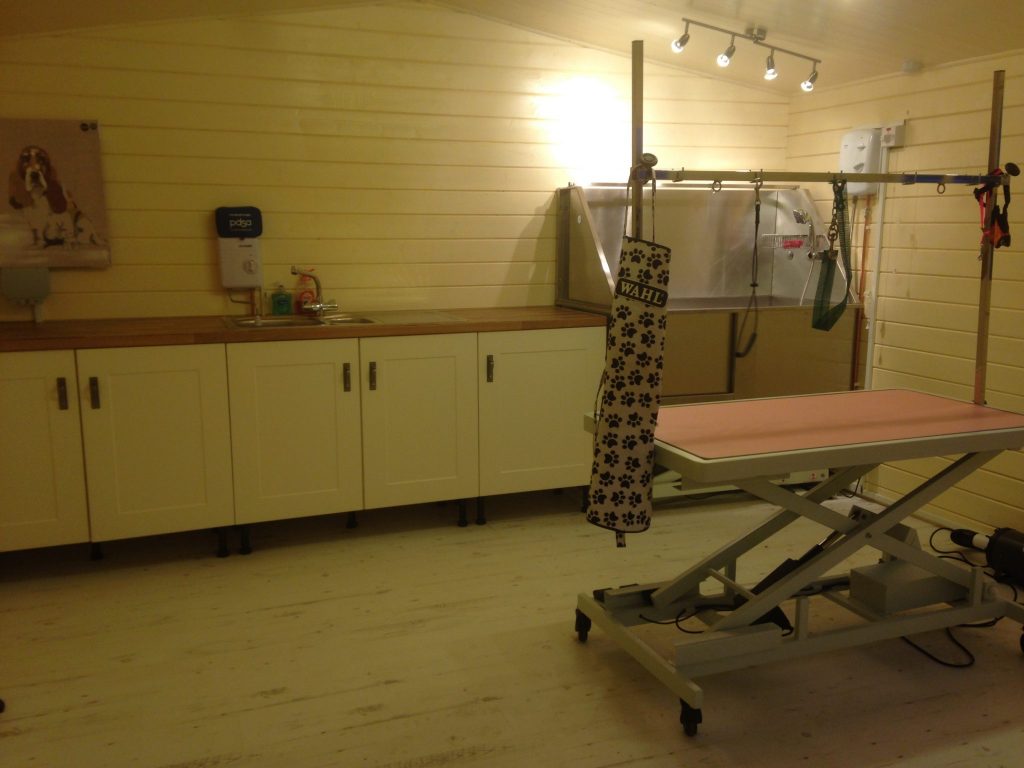 Your dog is an individual, and deserves a grooming treatment to match his/her needs. At Madison's, the grooming process starts by finding out all about your dog, including breed, age, health, vaccinations and when the last grooming took place. For example, I cater for the needs of elderly, arthritic or otherwise less mobile dogs.
I also find out about your dog's lifestyle and role. A high-end pedigree show dog has very different grooming requirements to a working gundog!
Once I know all the relevant background, I recommend the perfect treatments for their health, maintenance and appearance.
Reducing your dog's stress
Many factors affect whether your dog enjoys the grooming process or finds it unsettling. The grooming environment, equipment used and the groomer's level of experience can all affect your pet's levels of stress. That's why, at Madison's:
Grooming takes place in a fully equipped log cabin in the grounds of my home. This facility was purpose-built to be a quiet, calm environment in which dogs can more easily settle.
All of my equipment is suitable for the grooming of all breeds of dog.
My confidence and extensive experience with dogs helps to keep them calm and settled.
Putting your dog's welfare first
All procedures at Madison's are designed to protect your pet's health and well-being:
No drying cabinets are used, as these are unsuitable for many breeds (e.g. brachycephalic dogs such as pugs) and dogs with medical conditions. Instead, each dog is hand-dried with an appropriate dryer.
Just as we wouldn't use harsh chemicals on our own hair or skin, I ensure that all the products used are sourced from high-quality, trusted suppliers. These are chosen and applied to achieve the optimal results for your pet's particular type of coat.
I'll also tell you any treatments I can't carry out because they are inadvisable — ultimately, your dog's health and well-being must always come first.
Find out more about Madison's