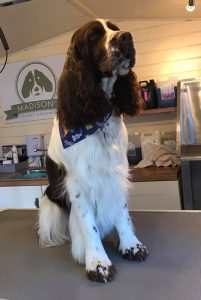 Before making a booking or arriving at the property, please read our Covid 19 Protocol.
Whether your dog needs a few unruly knots removing or full head to tail show preparation, Madison's is here to help. The cabin is purpose-built and fully equipped with top of the range equipment chosen specially to cater for all breeds, sizes and ages of dog. I have an electric grooming table and an electric stainless steel bath, both of which can be lowered to accommodate elderly and arthritic or large dogs. I service the needs of a diverse client base, with some customers travelling 90 miles or more to use my services.
Health and Maintenance Treatments
Every dog deserves clean skin and a well-groomed coat. Appropriate maintenance from a trained groomer can help your special friend stay healthy, look his absolute best and smell clean.
Your dog's skin and coat can reflect his overall health, so I always begin treatments with a careful check for lumps, bumps, and the condition of his skin and coat. I see many of our dogs more frequently than their vet does, which means I can offer an early warning if something doesn't look right.
My regular treatments include a full range of grooming services. My standard full grooming treatment includes:
Skin, coat and health check as above
Ear cleaning
Nail-clipping as required
Brush-out, removing any tangles or matting
Bathing using high-quality products
Clipping, hand-drying and styling to your requirements (see side bar)
A spritz of canine cologne
All dogs leave sporting a lovely handmade bandana, bow tie or flower from Madison's (

note: this service is on hold whilst the Covid 19 risk is still apparent

).
…And a lot of patience, soothing words and tlc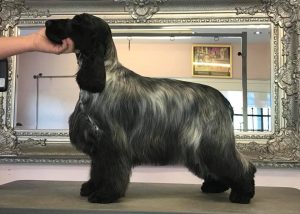 Treatments are available individually as required.
Contact me today with your requirements.
Hand Stripping
Hand stripping is a specialist skill. I am happy to meet your dog's hand stripping requirements although this service is charged at a rate of £30 per hour for a full hand strip. Minimal hand stripping is provided during a regular full groom and included in that price.
Show Preparation
Madison's have a special interest in preparation for dog shows. As an owner of show dogs myself, I know just how much care, expertise and attention to detail is needed in order to properly prepare for a high-level show.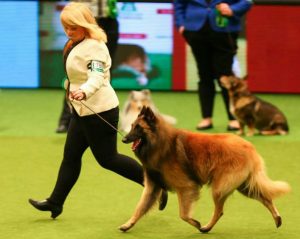 When your dog is being scrutinised by a competition judge, every detail counts. I currently look after the show preparation for a top-level show champion Belgian Shepherd Tervueren who is a champion both in the UK and in Holland. His name is Dekker, and his show title is: Sh Ch French Kiss v Moned with Domburg. I am always happy to hear from owners who need to get their dog ready for competition.
My show preparation service has the same basic components as a maintenance and health groom. However, the time and finessing required will obviously be much greater, as befits your little champion.
Please get in touch and I will be happy to discuss your competition needs.